The Foreign, Commonwealth, and Development Office (FCDO) and partner organizations provide funding for the Chevening international awards programme, which was started by the British government. Through Chevening, over 50,000 professionals have studied in the nation since 1983. Future world leaders, decision-makers, and influencers have a rare chance to obtain a Chevening Scholarship 2023 thanks to this fully funded scholarship.
The scholarship enables recipients to advance their academic and professional careers, experience the diverse culture of the UK, engage in extensive networking, and forge satisfying and long-lasting relationships. If the Chevening Scholarship appeals to you, you can find the most recent details about it here for the 2023 cycle.
A brief summary of the Chevening Scholarship for 2023
You could submit an application to a university in the United Kingdom for a Master's Degree Programme (Masters/MPhil). The scholarship degree programme lasts for one year. The same course may be applied for at three different universities, three different courses may be applied for at three different universities, or three different courses may be applied for at one university.
Benefits of Submitting a Chevening Scholarship Application
The Foreign and Commonwealth Office (FCO) and partner organizations cover all of the accepted applicants' final costs because the UK government fully funds this international scholarship programme. This protection comprises:
A monthly stipend to cover living and housing costs
Allowance for Arrival and Departure
Return Tickets in the Economy Class
Getting the Visa Application Fee Refunded
TB Testing Compensation Waiver of Tuition Fees Up to £75
The criteria for receiving a Chevening Scholarship
Applicants for a Chevening Scholarship must:
You are a citizen of a nation that qualifies for Chevening.
After your scholarship expires, you'll spend at least two years returning to your home country.
You can enrol in a postgraduate programme at a UK university now that you have finished your undergraduate studies. It is typically comparable to the UK's upper second-class 2:1 honours programme, though this will vary depending on the university and course you have chosen.
You have a minimum of 2,800 hours, or two years, of work experience.
By July 13, 2023, you have submitted applications to three UK universities and have heard from at least one of them.
A Chevening Scholarship is not available to you if you:
Be a British national or a dual citizen (unless you are registering from Hong Kong and are a BN (O) holder or a citizen of a British Independent Country).
being a refugee in a nation that doesn't participate in the Chevening programme. If you are a refugee in a Chevening-eligible country and a citizen of a Chevening-qualified country, you might be qualified for a scholarship.
Work for or have worked for the British Council, a sponsoring UK university, the Foreign and Commonwealth Office, all British Embassies/High Commissions, the Home Office, the Ministry of Defense, the Department for Business, Energy, and Industrial Strategy, the Department for International Trade, or within the last two years from the opening of Chevening applications.
You are not eligible to receive a Chevening Partner Award from a Chevening Partner organisation if you are currently employed there, have been employed there within the last two years, are related to someone who is, or are currently affiliated with, such an organization.
have previously gone to university in the UK on a government scholarship there.
Is English Language Proficiency a Must?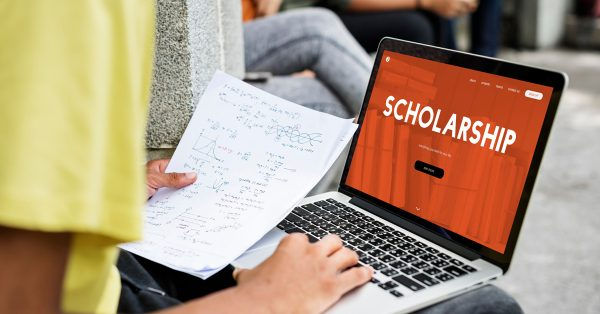 From 2021 to 2022 and onward, Chevening will no longer require English language proficiency from applicants for the Chevening Scholarship. You will still need to submit your application by the deadline and be accepted by one of your top universities in the UK for the course of your choice after meeting all of their English language requirements.
2021 scholarship applications - applications for scholarships
Experience at Work
To submit your application, you must have at least two years of work experience. If you have one of the following types of work experience, you are qualified to apply for the Chevening Scholarship 2023:
Working full-time
Working part-time
Internship, paid or unpaid
Volunteer work
How to calculate your work experience for voluntary work
Your total hours are calculated by multiplying your weekly work hours by the number of weeks you worked. For the purposes of this calculation, a work week is defined as 35 to 60 hours, and a work year is defined as 40 to 50 weeks. Everything that exceeds the weekly work maximum is ineligible.
Candidates must have at least the following number of hours of relevant work experience to be qualified for a Chevening Scholarship:
Two years of work experience equates to 2,800 hours for Chevening Awards.
If you have worked part-time, the minimal requirement will have been amassed over a longer period of time.
Would you be eligible for the scholarship if you had completed work experience as part of your graduation?
Any employment you had prior to, during, or after graduation will be taken into consideration. Any work experience that was used to fulfil requirements for your undergraduate or graduate studies will not count, though.
Documents Necessary
You must provide the following paperwork:
a transcript of grades
A Brief Biographical Essay Certificate of Achievement
Two letters of recommendation
Timeline for Applications
deciding on Chevening From the time applications are due until they are chosen for an award, it will take scholars at least eight months. The following is a list of the selection process in general.
Chevening Scholarship applications for 2023–2024 are no longer being accepted.
At 12:00 BST on August 2nd, 2022, the applications become available.
The deadline for submissions is November 1, 2022, at 12:00 BST.
On November 2, 2022, the applications will be evaluated against the eligibility requirements.
The reading committee reviews the qualified candidates between mid-November and December 2022.
Early to mid-February 2023: Interviews with Selected Candidates
References and educational records, from February to late April 2023 Deadline
27 February to 28 April 2023, with interviews beginning in June 2023 and results being made public on July 13 of that year.
Beginning of studies in the UK in September/October 2023
advice on how to complete your Chevening application
You must invest the necessary time and effort if you want to improve your chances of being chosen for a fully funded Chevening Scholarship to study in the UK. To help you, we have included every piece of advice and direction we can think of.
You'll be able to:
Find the best courses for you.
While applying, select appropriate references.
Avoid making the same mistakes as other applicants.
You must agree to these terms and conditions in order to receive any reward, so don't make the same mistakes as other applicants.
If you are successful, know that our multicultural and international community is looking forward to welcoming you!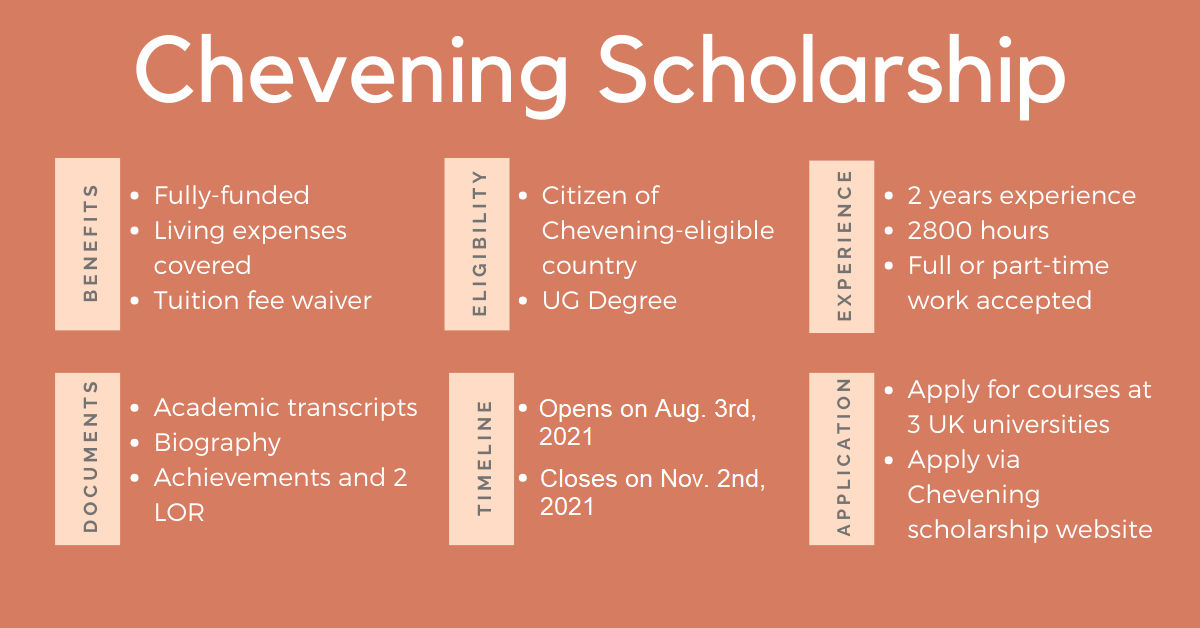 Make a Chevening Scholarship application.
The Chevening Scholarship application is available on their official website. Prior to that, in order to qualify for the scholarship, you must apply to and be accepted by a minimum of three different universities. The entire application process to universities that offer your desired programme can be challenging and challenging.
You can get assistance and guidance from AHZ Associates at each stage of the application process. We specialize in finding and placing international students at UK universities as one of the top educational consulting firms in the country.